Atlas Reactor is a competitive turn-based team tactical game developed by Trion Worlds. It was introduced and at PAX Prime 2015, released on October 4th 2016 and went free-to-play on January 17th 2017. There are currently 29 Freelancers with more to be released.
Overview
Atlas Reactor has an involved story, told through in-game events and other means such as short stories, Twitter conversations between characters. The players control a colorful cast of characters with unique abilities known as 'Freelancers', mercenaries that are given a 'Resurrection contract' by the large corporations known as 'Trusts', that make the Freelancers effectively immortal (as long as they are useful to the Trusts). The game takes place in a very vibrant futuristic world with a 5th Element feel with an often humorous tone. Teams spend up to 20 seconds planning their moves in the decision phase, after which all actions resolve simultaneously. As such, every player attempts to outsmart the enemy players by attempting to predict their actions and movement.  
There are four phases to each turn; prep, dash, combat and movement. The prep phase is where players can set buff and traps, dash is a dodging phase, the combat phase is where players do their actual attacks and do damage, and the move phase is where players move their characters.
Enter The City of Atlas
You are a Freelancer, a highly trained fighter fulfilling contracts and dispatching enemies under the ever-watchful eye of Atlas' powerful Trusts. Trusts control the whole megacity, from the Depths to the Strata, and all the humans, hybrids, and robots who live there. Sometimes you work for the Trusts. Sometimes they work you. Either way, you've got the only gig around that guarantees you access to the one thing everyone wants a piece of: The Atlas Reactor. It's the last one on the whole planet – a remnant from an age of technological genius lost to the world, and the key to all energy, technology, and resurrection. Your job's to try and keep it running. At least, that's what the Trusts say. Just try not to die. In this city, life is cheap. It's resurrection that's expensive.
Editions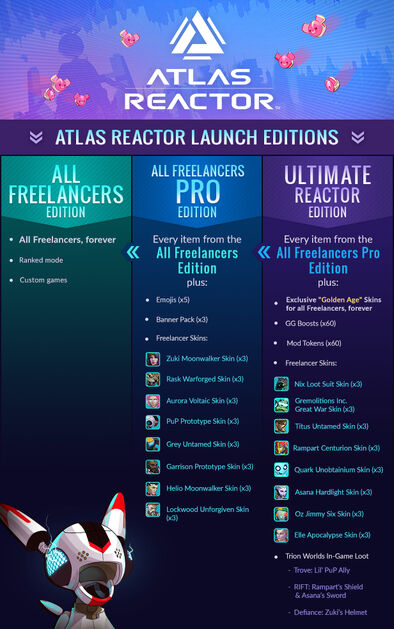 As an alternative to unlocking each character individually, players can choose to instead buy the game outright through three separate packages. All three of the packages unlock the full roster of Freelancers immediately for the player, but the player has the option of paying more money and also unlocking a variety of cosmetics and convenience options. These packs can be seen or purchased
here!
All Freelancers Edition
All Freelancers unlocked forever
Custom games
All Freelancers Pro Edition
Everything in All Freelancers Edition
Emojis (x5)
Banner Pack (x3)
Freelancer Skins:
Ultimate Reactor Edition
Everything in All Freelancers Pro Edition
Exclusive Golden Age skins for every Freelancer that has been and will be released
Bonus "All Freelancers Pack" Code for a friend
60 GG Boosts
Freelancer Skins:
Trion Worlds In-Game Loot

Trove: Li'l PuP Ally
RIFT: Rampart's Shield and Asana's Sword
Defiance: Zuki's Helmet
System Requirements
Minimum
OS: Windows Vista™ Enterprise (6.0, Build 6002) Service Pack 2 (6002.vistasp2_gdr.150312-1556) or later
Processor: Quad Core. Intel(R) Core(TM) i5-2520M CPU ~2.5GHz / AMD Phenom II X4 @ 2.6GHz equivalent or higher
Memory: 4 GB RAM
Graphics: Display Memory: 1696 MB - Min. Shader Level: 3.0 - Supports Render Textures
DirectX: Version 9.0c
Network: Broadband Internet connection
Storage: 5 GB available space
Additional Notes: Glyph Client and registered Trion Worlds Account
Gallery
Videos
Ad blocker interference detected!
Wikia is a free-to-use site that makes money from advertising. We have a modified experience for viewers using ad blockers

Wikia is not accessible if you've made further modifications. Remove the custom ad blocker rule(s) and the page will load as expected.